From Winston-Salem Journal:
Women aviators gather in Mocksville
Sugar Valley Airport in Mocksville was host to a conference on women in aviation on Saturday. After the panel discussions, pilots from the Experimental Aircraft Association in Salisbury gave free rides to kids and some adults. The Goodyear Blimp made an appearance during those flights.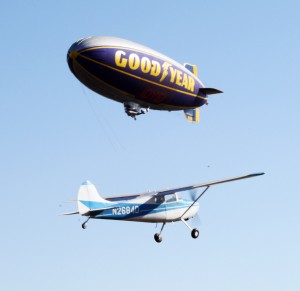 MOCKSVILLE It seemed only fitting that Saturday's gathering of female aviation leaders at Sugar Valley Airport was held on one of those cloudless mornings that pilots dream about.
Several of the 100 or so people at the event flew into the airport, which is just outside the Farmington community. The Goodyear Blimp even made an appearance, flying over the runway.
They came for "The Spirit of Aviation: Outstanding Women and Today's Opportunities," the first of what organizers hope will be a series of yearly conferences about different aspects of aviation.
Lee White, one of about 50 volunteers who run Sugar Valley Airport, said she and others were inspired by a gathering of World War II-era women pilots, known as WASPs, at an air show in Oshkosh, Wis.
Most of the surviving WASPs, which stands for Women Airforce Service Pilot. are now in their 90s, so getting them to Sugar Valley was not feasible, White said. Instead, organizers decided to have a conference celebrating women aviators and opportunities in this field for young women.
"We called these ladies and they said, 'yes,'" White said. "We were blown away and just ran with it."
Most of the 10 women who spoke Saturday are from the Triad. They included Dena Miller, who flew for Piedmont Airlines and now flies for US Airways out of Charlotte; Linda Finch, who successfully re-created Amelia Earhart's flight around the world; and Capt. Bridgett Fitzsimmons, an F-15E Strike Eagle Pilot in the 335th Fighter Squadron at Seymour Johnson Air Force Base in Goldsboro.
"We have a number of phenomenal female aviators in this area," White said. "They just came out of the woodwork."
The event featured two panel discussions focusing on careers and education. Later, kids and some adults got free airplane rides, courtesy of the pilots from the Experimental Aircraft Association's Salisbury chapter.
The women shared stories about how they started in aviation and how they were treated in a male-dominated field. Most said they never confronted any barriers.
Zenda Liess, a flight instructor and FAA-designator examiner who lives in Lexington, began flying in the early 1990s and has logged more than 10,000 hours.
"My biggest fear was how the captains were going to treat me," said Liess, who worked for a regional airline carrier for a few years. "I had a stereotypical idea of what men were going to think. But almost every guy I ever flew with treated me with respect. I thought all of them would be male chauvinists, but I was wrong."
Chad and Rhonda Wilcox of Stokesdale were among the people who attended the conference. Both are competitive skydivers, and Rhonda has been flying since 1996.
"I've never heard about anything like this before," Wilcox said about an aviation conference focusing on women. "I was very interested in what they had to say."